Our good friends take us to dinner for our birthday. Suddenly, while we're enjoying the food and the company, the waitstaff descends on us with a loudly sung song in celebration. It may involve horns, whistles and a funny hat. It almost always involves a dessert dish of some sort and a tiny bit of public embarrassment. We look at our dear friends after things quiet down and mutter "I'll get even with you!"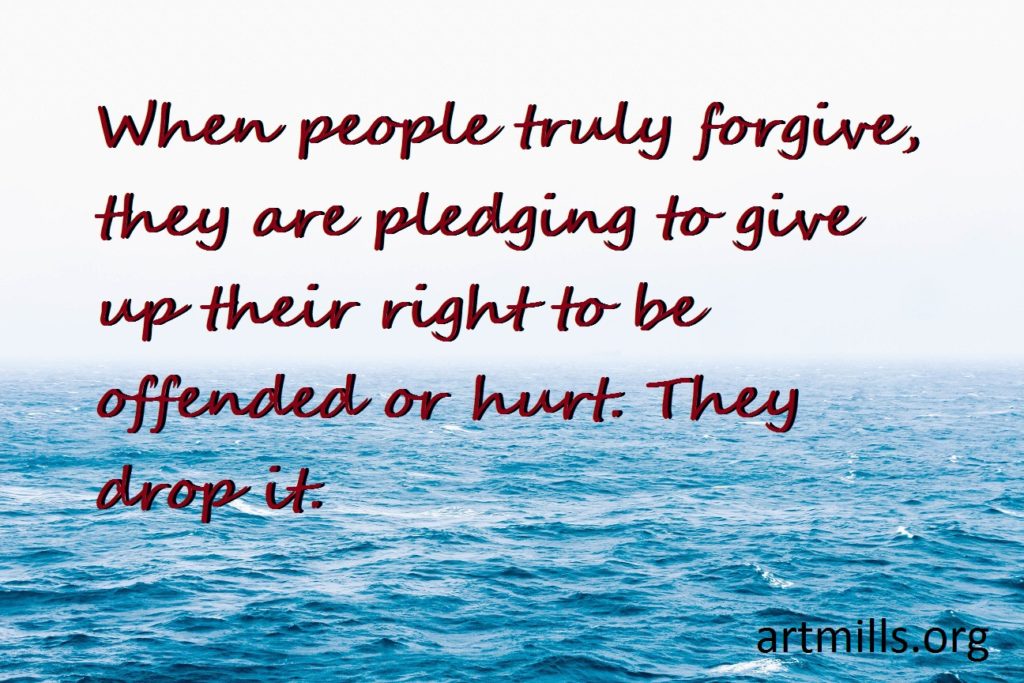 Getting even. We all know what it means. Sometimes we use it jokingly, but often it comes from a place of being hurt, and it has become synonymous with retaliation. It usually means that someone has been hurt. One party has caused some sort of wrong or damage onto another.
Getting even comes from the idea that "Even" is the condition we all need to be in. In our interactions with one another, there is give and take. Even means scores are settled, debts are paid and we are on the level with one another. This is where we all attempt to live with each other.
For any number of reasons, someone may have done something that hurt us. Whether it resulted from an accident that they couldn't fix, negligence that they wouldn't fix, or a mean spirit where causing pain & trouble was the goal, you were the one who got hurt in the process.
Things need to be brought back into a state of being even. In natural man's thinking, that means that a couple of things might likely happen.
Restitution

. A person at the store accidentally backed into your car. Their insurance pays to bring things back to the way they were before the accident.The teenager across the street accidentally under-steers while backing out of the driveway and takes out your mailbox. They pay you to replace your mailbox.

I remember the time I had to replace my uncle's sliding glass door. I accidentally walked through it thinking it was open. It shattered everywhere. I payed for a new one. It was the right thing to do.

Revenge.

Our legal system is based on a system of standardized and systematized revenge. People pay with portions of their lives based on how serious the crime was that they were convicted for. Stealing, first offense could get a sentence of one year of probation, while treason or terrorism could get the death penalty.One well known case of revenge was when Aaron Burr decided he had enough of what he considered Alexander Hamilton's back room dealings. Burr challenged Hamilton to a duel. The duel resulted in Hamilton's death.

Revenge can even be something so small as back biting and gossip. You wouldn't ever physically harm someone, but you're going to make sure EVERYBODY knows what they did to you and how badly you were victimized by that meanie.
There is another road. It's called forgiveness. Sometimes people can't pay what's owed. Revenge can be pretty costly. Usually when someone is the victim of revenge, they are pretty sure they didn't deserve it. Then they might also retaliate, and then you have a war on your hands. Forgiveness is a better option. Forgiveness is the best way to get us back to even.
"The weak can never forgive. Forgiveness is the attribute of the strong."
― Mahatma Gandhi,
What does it mean to forgive? When people truly forgive, they are pledging to give up their right to be offended or hurt. They drop it. You may have heard it said before, "I forgave them, but I will never forget it". This isn't true forgiveness.  True forgiveness is when we drop our claim.  That means not remembering…intentionally.
Webster's dictionary defines forgive as:
To give up resentment of or claim to requital for an insult.
To grant relief from payment.
To cease to feel resentment against an offender.
To pardon one's enemies.
In the Bible, the Greek word translated forgive in the New Testament is Aphiemi. (af-ee'-ay-mee). It means to send. In various applications it means to send forth. To send away. To yield up. We see this used 147 times in scripture. One notable place is found in 1 John 1:9. Where John writes – If we confess our sins, He is faithful and just to forgive us our sins, and to cleanse us from all unrighteousness.
"To be a Christian means to forgive the inexcusable because God has forgiven the inexcusable in you."
― C.S. Lewis
If we are really dropping our claim, if we are truly sending our offense forth, sending it away and yielding it up, then we will not be holding on to thoughts of it. If we really forgive, we stop bringing it up, or using it as leverage when we're angry.
When we want to get even, we want restitution. If we can't get that, we might seek revenge, but if you allow God to work in you, He will give you a heart of forgiveness. Think about it, there was no way we could pay restitution to Him, and thankfully, He didn't seek revenge.  Instead, He made a way where we could get back to Him when we couldn't get there for ourselves.  He extended His mercy and grace toward us in Jesus.  He offered us forgiveness.  Through His mercy, He lifted us to a place of peace with Him, where we have no fear of retaliation.  Christ Himself payed our restitution. (Click here to know more.) 1 Peter 2:21 says that Jesus gave us an example that we should follow in His steps.
Instead of getting even, you can forgive. By forgiving, you are showing the mercy that God has given to you.  You are getting back to even with them.  Instead of getting even, we can say you are giving even.
Love you guys! Don't forget to share.
Art