While I have always enjoyed reading, I haven't always been a big reader.  Reading was always something I did when I had to.  The first book I can remember reading on my own, without anyone making me, was called "King of the Wind".  It was a book about a horse named Sham, and his mute stable boy named Agba.  I don't remember much of the story because I read it in third grade, but I remember really liking it.
I became a serious reader when I became a Christian.  I made it a point to read my Bible every night before I would go to sleep.  I also developed a strong appetite for teaching books by Christian authors like Kenneth E. Hagin & Kenneth Copeland.  I read all I could get my hands on.
After several years, I became exposed to other famous authors and famous non fiction books, such as Dale Carnegie's How to win friends and influence people, and John Maxwell's 21 irrefutable laws of Leadership.  I try to flip through these every year or two to keep fresh on their content.  With few exceptions, I stick mainly to non-fiction.
This year I put forth serious effort to read more, good quality books.  The one's I talk about here came highly recommended. I would have to say, while I liked some more than others, they were all good and I would recommend all of them to anyone who's goal is personal growth.  So, without further ado, here's my list.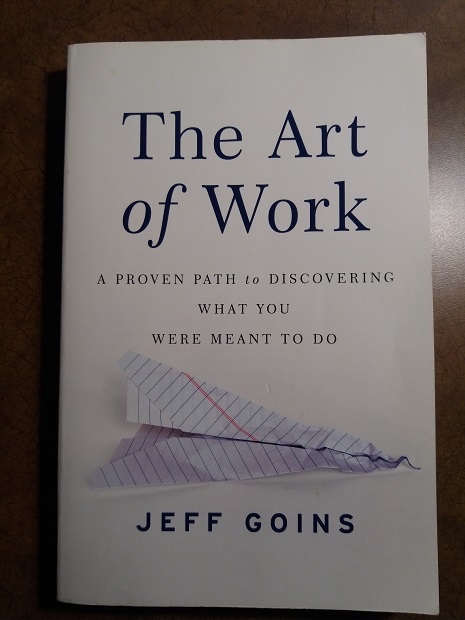 The Art of Work – A proven path to discover what you were meant to do.  By Jeff Goins.  Published by Thomas Nelson.
In The Art of Work,  Jeff breaks the book into three main parts, Preparation, Action & Completion.  He examines our purpose, and our journey toward fulfill our calling.  He examines how we look at vocation, career & calling, ultimately leading to the truth "Meaningful work is available to anyone who dares to find it".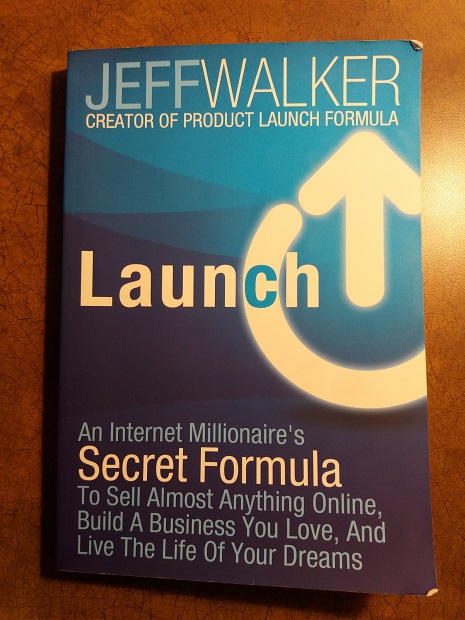 Launch – Jeff Walker.  Published by Morgan James.     Jeff Walker outlines his secret formula for marketing online.  Jeff started with humble beginnings as a stay at home dad with an interest in the stock market.  His first online business started with a subscription newsletter about the stock market and grew from there.
Jeff points out that there are a lot of online marketers out there, teaching a lot of stuff, but we need to pay attention to the successful ones.  What's important isn't necessarily what they are teaching, it's what they are doing.  The successful ones are usually using Jeff's formula. Launch outlines how almost anyone can start an online business.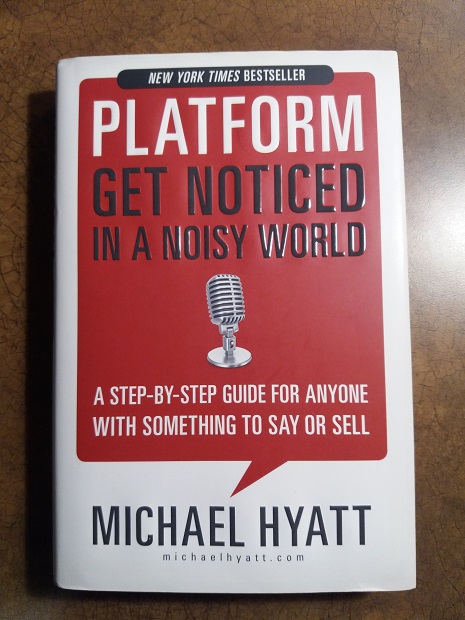 Platform – Get noticed in a noisy world. By Michael Hyatt.  Published by Thomas Nelson.
Michael is the former CEO of Thomas Nelson Publishers.  He points out that while there were some tremendous book ideas submitted for publishing over the years, many were refused because no one had ever heard of the author.  Michael outlines why we need a platform and offers step by step guidance in building your own, including building your home base, expanding your reach and handling social media.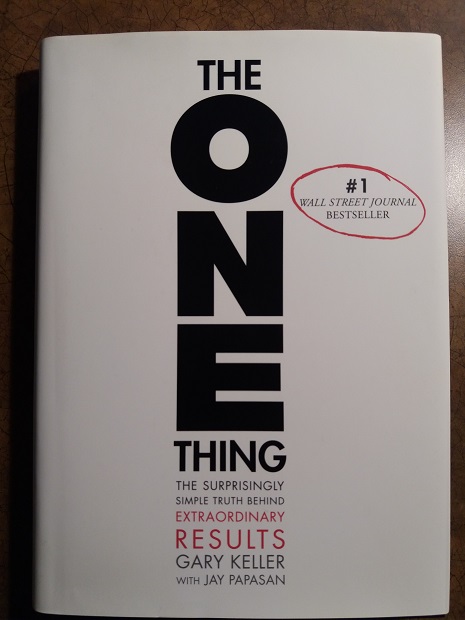 The One Thing, The surprisingly simple truth behind extraordinary results.  By Gary Keller. (Published by Bard Press).
Gary is the Chairman of the board and co-founder of Keller Williams Realty, the largest real estate company in the world.  The One Thing focuses on success and productivity by addressing three major points.
A. The lies we've been told about productivity and work, and how they have misled and derailed our success.
B. The simple truth about real productivity.
C. Getting extraordinary results and unlocking your possibilities.
It's a great book that even comes with a "Do not disturb, I'm working on my one thing" door hanger bound into the back of the book.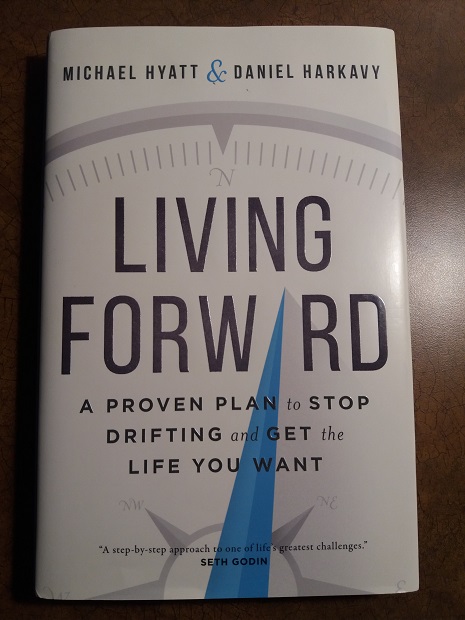 Living Forward –  a proven plan to stop drifting and get the life you want.  Michael Hyatt & Daniel Harkavy.  (Published by Baker Books).
This book focuses on our desire for a life of meaning and significance, joy and satisfaction.  Michael & Daniel break down life planning into three main parts.  First, understanding the need, second, understanding the mission, and finally, making it happen.  This book is very interactive, and asks you to take a minimum of one full day to stop, and give real real, intentional thought to your life.
They first ask you to write your own eulogy, with a sharp focus on how you want to be remembered.  The authors encourage you to break your life into categories, and then establish a vision in each.  Living Forward helps you to identify and write down the goals for each category, and establish a plan to accomplish them, while continuing to grow in each.  Both Daniel & Michael are Christians and they acknowledge that our plans will change as we come to know and more fully understand God's direction for our lives.  They have a built in review schedule for you to tweak, update, or fully revise your life plan.  I highly recommend this book.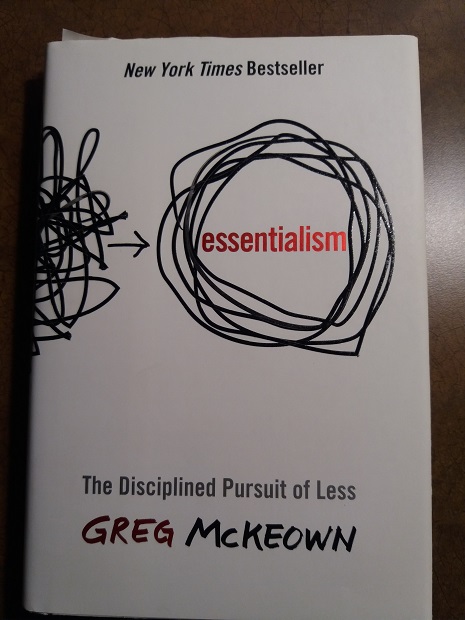 Essentialism – Greg Mckeown.  (Published by Crown Business).    Greg starts off telling the story of Dieter Rams, a lead designer for Braun.  Deiter designed by a principle which in German is stated – Weniger aber besser. The English translation is "Less, but better".  I now have this statement on the wall in my office at work.
It was Deiter that we can thank for taking the home stereo from being the Oak, or walnut monolith of the past, that took up a large portion of the living room, to being the sleek, streamlined component based stereo that fit in far less space.  Less, but better.  Essentialism is not about getting more done in less time. It's about getting only the right things done.  Peter Drucker said "There is surely nothing quite so useless as doing with great efficiency what should not be done at all."  There are a lot of people who are very busy but not productive.
Essentialism examines the discipline of finding the essential, and eliminating what is not.  It asks and answers the question:  How can we discern the trivial many, from the vital few.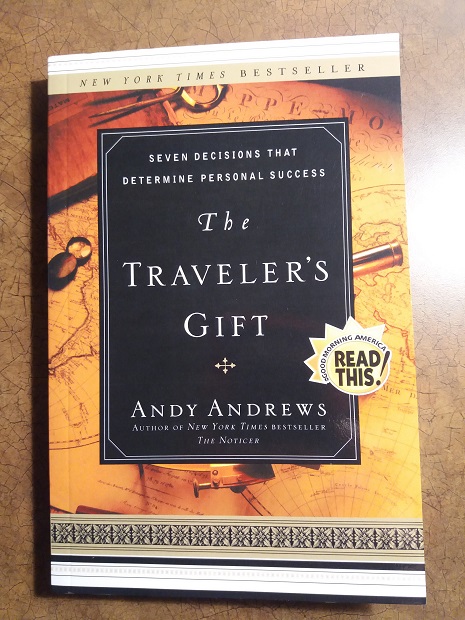 The Traveler's Gift – Seven decisions that determine personal success.  By Andy Andrews.  (Published by Thomas Nelson).
The Traveler's Gift is a fictional story of a man named David Ponder.  David is a 46 year old man struggling with his life.  On the way home from being fired from his job, David is in a car accident.  His last words before losing consciousness are "God, Why Me?"
David awakens in another time, and in the course of his journey through time, he meets seven people.  Each person gives David a scroll with a message on it.  These messages are nuggets of wisdom that ultimately change David's life.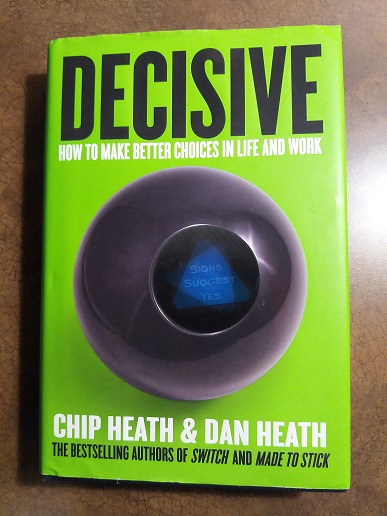 Decisive, How to make better choices in life and work. By Chip and Dan Heath.  (Published by Crown Business).
I found this book very insightful.  It helped me recognize areas in my decision making that were not very helpful.  The Heath Brothers examine decision making by highlighting the four villains of decision making.  There is good advice and guidance for the person struggling with choices.
They discuss everything from our tendency to only collect research that supports our already held beliefs or desires, to our tendency to only look at our problems through a remarkably narrow frame of vision.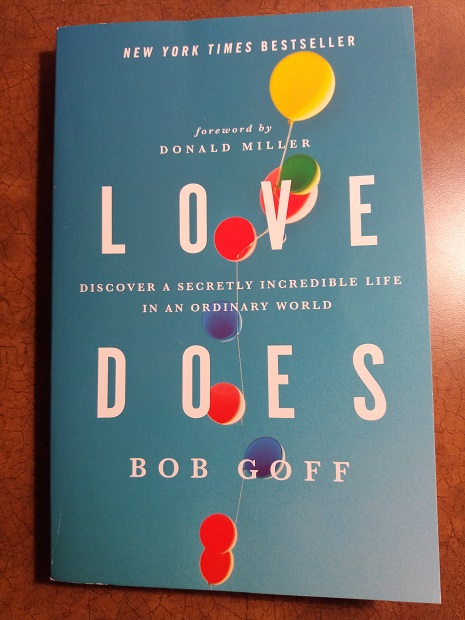 Love Does – Discover a secretly incredible life in an ordinary world.   By Bob Goff.  (Published by Thomas Nelson).
Bob is the founder and CEO of Restore International.  A nonprofit organization fighting injustices against children. He also shares leadership in a law firm in Washington state called Goff & Dewalt, which practices in Washington and California.  He also serves as Honorary Consul to the Republic of Uganda.
This book is full of remarkable and interesting stories from Bob's own life.  Each chapter declares a topic, Bob gives a short sentence about his personal belief, and then tells a story about it.
This book challenges the Christian to move away from the heavy weight of being religious, and just start loving, serving and helping people.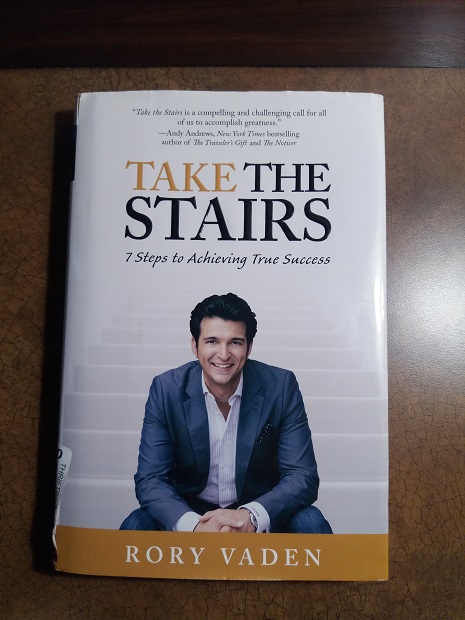 Take the Stairs – Seven steps to achieving true success.  By Rory Vaden.  (Published by Pedigree Publishing).
This book examines productivity, procrastination and self discipline.  Rory outlines seven strategies for helping us to live a more disciplined life.
He points out that many people don't take the stairs because they are too busy looking for the escalator.  Rory points out that there really is no escalator, and that, once you kill the idea that there is an escalator (an easy way), you'll realize that the fastest way to get what you want is to actually do the work, and make your goals a reality.
There you have it.  These were all worth my time to read, and I find myself using nuggets from each of them in my everyday life.
What books have you read that you would recommend?  Please share in the comments.
Until next time,
Art