There's a company called the Automotive Testing & Development Service (ATDS) – (howstuffworks.com).  They specialize in putting cars & trucks to the test.  Their goal is to try to put a lifetime amount of wear and use on an automobile in a short time, to see when failures will occur.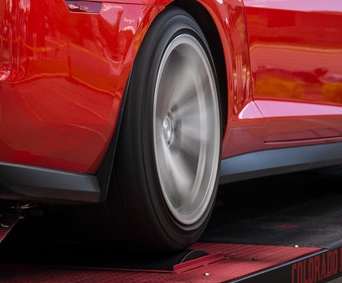 They test engines by putting cars on static dynamometer and running them at 120 mph for months to determine the lifespan of the engine. They'll also take a car to the track & run it 24/7 for more than a month.
Their purpose is to provide product data to the car manufacturers so that they can make better engineering choices and build more durable, safer cars.  To do that, the cars and trucks have to be tested to see where the failure points are.  To measure how much they can take.  It's important to understand that test are designed to take these cars to their absolute limit.
A Lot of Christians seem to think that the purpose for tests and trials is to break them.  They imagine God on high, watching their failure.  When they fail, they imagine Him shaking His head in disappointment as if to say "I knew it".
Others believe that it's not God testing us but they don't really know what part He plays in it.  They believe that He's with them in their trouble.  While they may wish for a miracle, all they might actually expect from Him is that He will comfort them and hold their hand while they spin down the drain.
Does God test us?  The answer is yes. But before we get too far, let's draw a distinction between test and tempt.  In the King James Version of the Bible, the words test and tempt are sometimes used interchangeably but their meanings are different.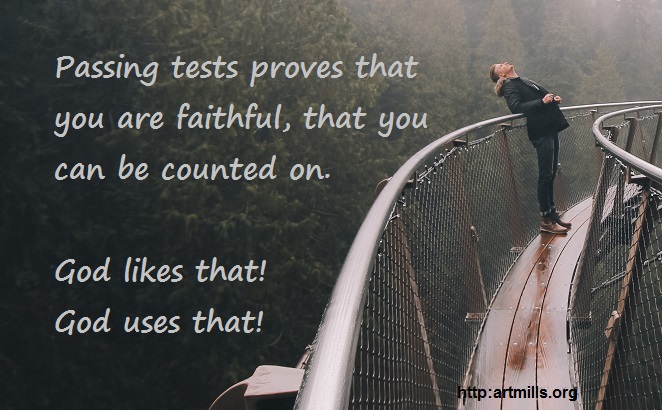 The Hebrew word for Tempt used in Gen 22:1 where scripture says God tempted Abraham, literally means "To Test".  The meaning borne out in the definition says "to attempt, assay, prove, tempt, try".  The word "prove" stands out to me.  It gives the idea of testing in order to measure.  To find out where the failure point is.
In contrast, James 1:13 says "Let no man say when he is tempted, I am tempted of God: for God cannot be tempted with evil, neither tempteth he any man".  While the word used for tempt here is very similar, it also carries the meaning of "To entice".
We can see how it happens in the next verse.  He is drawn away by his own lust (literally means Longing).  The existence of the longing/lust is not wrong.  It wouldn't be a temptation if you didn't have a desire for it.  Even Jesus was tempted. That tells us that temptation is, in and of itself, not sin. The problems come in when we YIELD to the temptation.
I also want to point out that God knows your heart.  He already knows what you can stand and what you can't.  1 Corinthians 10:13 says "There is no temptation taken you but such as is common to man: but God is faithful, who will not suffer you to be tempted above that you are able; but will with the temptation also make a way to escape, that you may be able to bear it." NKJV.   This verse is both a comfort and a challenge.  God knows my failure point, and he will not allow me to be tempted above what I can bear.  If he did, then when I'm judged, I could literally say "I couldn't help it".  But that can not be said because God will never allow a temptation to come that you can't escape.  The grace is there for each of us to do the right thing EVERY TIME.
This tells me a few things:
First – God loves us dearly, and He is always watching out for us to make sure that we're not facing anything bigger than we can deal with.  He is our rear guard.
Second – On any given day, if I find myself looking a temptation in the eye, it's because God has given me the grace gifts and the wisdom to pass this test.  If it shows up at all, it's because God let it through, and that tells me that I have been equip with what it takes to pass this test.
Third – This tells me that the failure point isn't set in stone, it can be moved.  You are probably not falling into sin as easily as you used to in certain areas.  This means that, at least in some areas, you have matured and grown strong.  You can and should be growing in all areas.  That means that we should be standing longer, operating with greater measure of faith, and getting greater results without failing.  It also means that we should be constantly raising the bar on ourselves.
Passing tests means greater use.  Once we've proven ourselves, God knows that He can give us more and we won't cave, fall down, lock ourselves in the bedroom and cry "why, God why".
Passing tests means proving that you are faithful.  You can be counted on.  God likes that.  God uses that.
Passing tests also means that greater tests will come.  Some days you just look at the test you're facing in your situation and say "You're a big boy, aren't you?", but then it just rises up in your heart "I can do all things through Christ, which strengthens me!".
If you're like me, you like things that are easy.  Tests are not easy, but tests carry with them the hope of promotion.  If we can keep that in mind, it will not only change the way we see trouble, but it will change the way we respond to it.
In 1 Tim 3:10, Paul writes concerning the office of a Deacon.  "Let these also first be proved; then let them use the office of a deacon, being found blameless".  He points out that they need to be proven first…Then.  The Then comes once the results of the proving come in, and the man is found blameless.  This is always how it works with God. This is how He deals with everyone.  God's desire is always to promote us.  When God proves us and allows the tests and trials, His intent is always to promote.   It is ALWAYS GOD'S WILL to promote you, but you've first got to be proven – and pass.
Next time you look at that co-worker you struggle to get along with, just imagine the word "TEST" tattooed across their forehead. It will help you keep perspective so you can know how to respond.
It's one thing to know, it's entirely another thing to do.  The book of James tells us that the ones that only hear are deceived.  It's the doers that are blessed in their deeds.  So let me encourage you – Look at the things you've been failing in.  Where have you been falling down? God's promise to us is that there is promotion on the other side of the test.
Are you going to pass?