"When you grow up, you tend to get told that the world is the way it is and your life is just to live your life inside the world, try not to bash into the walls too much, try to have a nice family, have fun, save a little money. That's a very limited life. Life can be much broader, once you discover one simple fact, and that is that everything around you that you call life was made up by people that were no smarter than you. And you can change it, you can influence it, you can build your own things that other people can use. Once you learn that, you'll never be the same again.

"The minute that you understand that you can poke life and actually something will, you know if you push in, something will pop out the other side, that you can change it, you can mold it. That's maybe the most important thing. It's to shake off this erroneous notion that life is there and you're just gonna live in it, versus embrace it, change it, improve it, make your mark upon it.

"I think that's very important and however you learn that, once you learn it, you'll want to change life and make it better, cause it's kind of messed up, in a lot of ways. Once you learn that, you'll never be the same again."   — Steve Jobs
I love this quote.  I find it very inspiring.  The truth is though, I was that guy.  I was living "inside" the life that I had, trying not to bump into the walls.  Not realizing that I had any control, that I could change things and make them happen instead of just letting them happen and responding to them.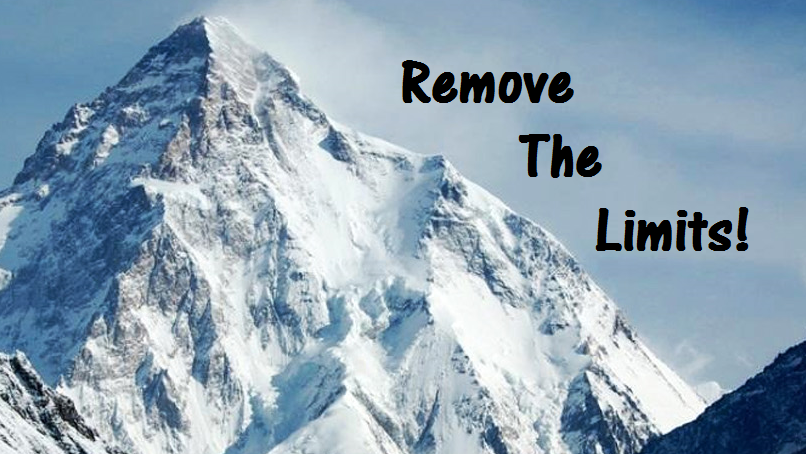 It reminds me of the verse in Acts 27 when during Paul's voyage to Rome, the ship owner and the captain ignored Paul's warning that they should not loose from the Fair Havens of Lasea, but instead launched out with a soft wind.  Not long after they were out at sea, they ran right into a typhoon.  When the winds were so strong that the ship wouldn't respond to any attempt to steer it, the just turned it over to the wind.
And when the south wind blew softly, supposing that they had obtained their purpose, they weighed anchor and sailed along Crete, close in shore.  But after no long time there beat down from it a tempestuous wind, which is called Euraquilo: and when the ship was caught, and could not face the wind, we gave way to it, and were driven. – Act 27:13-15
We gave way to it, and were driven!  If you continue reading they got to the point where they literally did not know where they were.  They were lost.  That's what I did for many years, and I see people everywhere doing that with their lives today.  The truth is that God has a VERY, VERY BIG plan for your live.  It's a life that Ephesians 2:10 says that God hand crafted you to live, and that it's been waiting for you. It was "before ordained that you should walk in it".  It's a good life.  It's the very best, and most fulfilling life you could possibly live.  We see from Ephesians 3:14-21 that part of our problem is that we have trouble comprehending the extent of the love that God has for us.  He wants us to know that He is able to do Exceeding Abundantly Above all that we ask or think when we allow Him to work in us.  The short of it is this…God wants to help us but we have a vision problem.
The sad truth is that God is not limited by His ability to help us, He's limited by our ability to receive His help.  We are the limiting factor in whether or not God can move in our lives.  We receive by faith and faith is of the heart.  Our heart problems limit God in our lives.
We don't see ourselves the way God sees us.  Consider this.  Remember the story in the Bible about when Moses sent the 12 spies into the promised land to spy it out?  They went into the promised land and surveyed it for 40 days.  They said:
"We went to the land where you sent us. It is a land filled with many good things! Here is some of the fruit that grows there. But the people living there are very powerful. The cities are very large and strongly defended. We even saw some Anakites there (Giants). Caleb told the people near Moses to be quiet. Then Caleb said, "We should go up and take that land for ourselves. We can easily take that land." But the men who had gone with him said, "We cannot fight those people! They are much stronger than we are." So those men gave a report that discouraged the people. They said, "The land we saw is full of strong people. They are strong enough to easily defeat anyone who goes there. We saw the giant Nephilim people there! (The descendants of Anak come from the Nephilim.) We felt like little grasshoppers. Yes, we were like grasshoppers to them!"   Num 13:27-33 ERV
Are you hearing that? Was what they said true?  For the last 400 years, someone else had designed their lives. Someone else who didn't care about them but only wanted to use them and exploit them for their labor. God had led them into the wilderness for about two years at this point.  The Bible says that He did it to prove them.  Now God Almighty has led them right up to the land that He promised them and it's finally here…It's Go Time!  Time to believe God's Word and move into the "Exceedingly Good Land".  So – Was what they said true?  No!  and to prove it, 40 years later their children took the land!  After 40 years, the inhabitants of the land were the same, the walled cities were the same and the giants were still there.  But 40 years later all those things didn't matter because the people believed God's promise and didn't allow the circumstances to stop them from moving forward.  They refused the limits and the lies. They proved it could be done.  The Grasshopper vision was gone!  God's plan for them was soooo much more than anything they could have done for themselves.  It truly was Exceeding Abundantly Above all they could ask or think.
Jeff Goins writes in his book "The Art of Work" about the unlived life.  He writes about allowing yourself to become who you are supposed to be in order to be able to do what you are supposed to do.  So, I ask you today, there, looking down at my writing from your glowing screen.  Are you ready?  Are you ready to accept God's call to you to live the life you were born to live?  Are you ready for the Exceeding Abundantly Above path for your life? Are you following your path and making your life happen instead of just "giving way to it and being driven"?
This is a prayer that Paul the Apostle prayed for the Colossian church.  It is a Holy Spirit inspired prayer.  I ask you to pray this over yourself every day.  Believe it knowing that God wants to do it in your life.
"Since the day we heard these things about you, we have continued praying for you. This is what we pray:

that God will make you completely sure of what he wants by giving you all the wisdom and spiritual understanding you need; 

that this will help you live in a way that brings honor to the Lord and pleases him in every way; that your life will produce good works of every kind and that you will grow in your knowledge of God; 

that God will strengthen you with his own great power, so that you will be patient and not give up when troubles come. Then you will be happy"   Col 1:9-11 ERV
 If you not sure about your relationship with God and you're not sure of His willingness to help you, Please Click here.