As I was running an errand this morning, I passed a 1965 Ford Galaxie 500.  My mind immediately went back to our Ford Galaxie.  This car had a real history with our family.  I remember a day when I was in fourth grade. I was helping my dad work in our back yard when he suddenly handed me the keys to our Ford Galaxie and told me to move it.  He gave me very specific instructions; "Put the key in the ignition, lightly pump the gas pedal once or twice & turn the key forward until the starter engages, then let off the key right away as soon as you hear the engine start.  Next, put your foot on the brake & pull the gear shift lever into reverse, turn & look where you're going, let off the brake & slowly give it just a little gas. Back the car down the driveway & stop when you're in front of the house. Put the car in park & shut it off".  This was my very first time behind the wheel where I was in complete control & he wasn't even in the car.  I did everything to the letter until it came time to give it some gas.  I didn't have a feel for how hard to push the pedal so my version of lightly was about 3 inches.  I threw driveway gravel all over the place.  Even though he scolded me, it was a big day for me.  I had driven a car.  It might have only been 20 feet but still, for a fourth grader it was huge.
I believe that what we become depends on what our fathers teach us at odd moments, when they aren't trying to teach us. We are formed by little scraps of wisdom. ~Umberto Eco
So many of my "Firsts" happened with my dad.  He gave me my first taste of beer. He taught me how to fish, tell time & build a car out of two wooden blocks and some bottle caps. He threw me my first fast ball (with real heat). I thought my fingers were broken.  He used to let me hand him tools when he was working on the car. He let me tear up an old tarp so that I could make a make-shift poncho. I needed something to "fling back" behind my pistols when me and my cousin would have gun fights in the driveway.  Because of him I still know the words to a few Marty Robbins songs.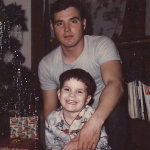 Without knowing it, he taught me how to think as well as judge situations and empathize with people.  He always seemed to know when something was bothering me.  I remember him specifically instructing me and my sister that nothing should ever be put in front of our relationship with God, especially when it came to choices in music or friends.  I remember him getting me out of bed late in the night in order for he, my mom, my aunt and my uncle to pray for me.  One time when I was in third grade he woke me up so they could pray over me and when he took me back to tuck me back into bed, he opened his bible to psalm 71:17 & 18 and read it to me.  He then looked me right in the eye and said "This is yours.  You confess it every night before you go to bed".  I have done it my whole life and it has had an immeasurable influence on me.
Psa 71:17 O God, thou hast taught me from my youth: and hitherto have I declared thy wondrous works. 18 Now also when I am old and grayheaded, O God, forsake me not; until I have shewed thy strength unto this generation, and thy power to every one that is to come.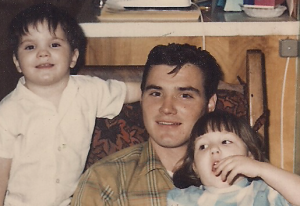 Dad gave me my first guitar.  It was a Teisco Tulip guitar.  I never played it.  I think I might have learned 3 open chords but it hurt my fingers so I didn't play it.  Dad ended up giving it to my cousin David, who didn't play it either so my uncle Chuck gave it back.  I used to be convinced that it was the world's biggest piece of junk but now I see how much they are selling for on Craigslist.  Wow!  Wish I still had it.  I do play guitar now though and my love of music came from dad. I have had the privilege of knowing some great men I my life.  Many of them have been strong examples, mentors & friends for me but NONE of them will ever get the honor that is reserved for him.  To my dad I would say this: You've started me off right.  I am forever grateful.  I honor you with every breath and every heartbeat.
My daddy, he was somewhere between God and John Wayne. ~Hank Williams, Jr
Let's talk about Dads.  What's special about yours?