I want to let you know that you can now get my mini-eBook "Your Path and Your Provision" for free when you sign up for email updates.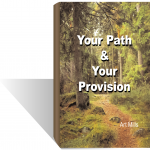 Here's an excerpt.
Did you know though that God has a path just for you? It is a life that was designed just for you. It's your life of significance, and only you can live it to the fullest. It's a life that God has tailor made for you and only in this God designed life can you reach your full potential.
I want to show you that you can discover God's plan for your life. You can find your path of significance. You can find out what you were meant to do with your life and you can begin on that path today!
Ephesians 2:10 We are His workmanship, created in Christ Jesus unto good works which God has before ordained that we should walk in them.
We are His workmanship.
God created you. He crafted you to the finest detail. Psalm 139:14 says that you are fearfully and wonderfully made. God put into you grace, gifts & equipment to make you effective in your life. His giftings are tailor made for you to do what He created you to do. God built you to be "High Performance" in the life that He's ordained for you. God created you on purpose and for a very special purpose! He did not create you with all your awesome gifts just to toss you out there to see what would happen. He built you in a precise and specific way.
I hope you enjoyed this.
Always remember, I respect your privacy and I will never share your email with anyone.