I originally wrote this post last year.  As I thought about what to write, I realized that what I have to say, I've already said.  Of all the holidays we observe in the United States, Memorial Day, at least for me, commands a remarkable level of respect and reverence.  That's why I want to share this post again this year.  -Art.
It's Memorial Day! Three day weekend – Woo Hoo! For many of my friends, it's time to hit the lake! I have a couple friends heading to Indiana this weekend – one is going to the Indy 500. It's the kick-off of summer and a lot of food will be cooked outside this weekend.
In 1968, Congress passed the "Uniform Monday Holiday Act" which moved four U.S. Holidays, one of which was Memorial Day, to Mondays, thereby creating three day weekends for Federal employees. This law took affect in 1971. Before then, Memorial Day was traditionally observed on May 30th.
"When the will defies fear, when duty throws the gauntlet down to fate, when honor scorns to compromise with death – that is heroism."  -Robert Green Ingersoll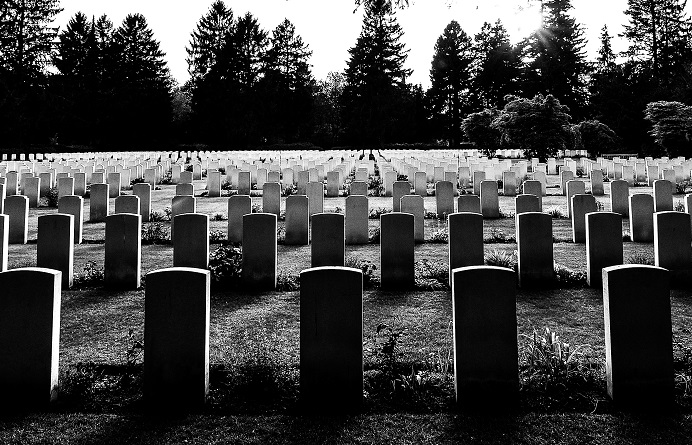 Even as I write this, I struggle for the words to express my heart. While I enjoy the three day weekend and the cookouts as much as anyone, Memorial Day for me demands a solemn respect.  A recognition that I get to live in a truly great country and enjoy tremendous freedom, but that this blessed gift came, and continues to come at a price. A price paid with the blood of the fallen soldiers who won it for you and me.
Memorial Day was born out of grief and loss. Waterloo, NY is officially credited with being the birthplace of Memorial Day. On May 5th, 1866, mourning families set aside a day to place flags and decorations on the graves of their fallen fathers, sons & husbands. This day was originally called Decoration Day.
I can't help but imagine the war widows and children trying to rebuild their lives after so many of the men in this country fell during the Civil war. The surviving families going to the grave sites of their loved one to honor their memory by decorating their grave. I can't even imagine the heart pangs of the families, with tears running down their cheeks, laying flags, mementos and flowers on their loved one's headstone. The families that were longing for their soldier to return. Longing to say "Welcome Home" with a hug and a kiss, only to have it replaced with a reunion of tears.
"These fallen heroes represent the character of a nation who has a long history of patriotism and honor – and a nation who has fought many battles to keep our country free from threats of terror." – Michael N. Castle
There are some in this country that think the cost is too great. Some say that the United States should never go to war. They are not willing to pay the high price of freedom. I have never lost someone close to me because of war. I can't speak with any authority about the pain and suffering a family goes through when they lose a daughter, son, husband, wife, father or mother in battle. I can say with certainty though, that through the sacrifice of these men and women, not only our country, but our world is better. They made a difference for us all.
When tyranny has risen over the years and around the world, the U.S. Soldiers, Sailors & Airmen have willingly put themselves in harm's way for us time and time again. Their mission – to keep us safe and to advance the cause of freedom around the world. This is a noble cause and while the cost is indeed great, I am so thankful for our soldiers who stood up to go and to do, to spend and to be spent. For all who serve, the risk is great, and Memorial Day for all of us is a time to be grateful for those who paid the ultimate price. They did it for us.
"I only regret that I have but one life to lose for my country."  -Nathan Hale
In 2000, a resolution was passed that appointed 3 p.m. local time, on Memorial Day, for all U.S. Citizens "To voluntarily and informally observe in their own way a moment of remembrance and respect, pausing from whatever they are doing for a moment of silence or listening to 'Taps'." (link leads to video of The United States Navy Band performance of Taps).
Miona Michael was the first to wear a red poppy in honor of those who died in service to their country. A tradition that is now identified with the VFW.  Moina wrote the poem below in 1915, inspired by the poem In Flanders Fields
We cherish too, the Poppy red
That grows on fields where valor led,
It seems to signal to the skies
That blood of heroes never dies.
It seems fitting to end this post with the words of the Gettysburg Address.  272 words spoken by Abraham Lincoln at the battlefield near Gettysburg, PA in November of 1863. 272 words that, at least to me, sum up what Memorial Day really means. It chokes me up every time I read it.
"Fourscore and seven years ago our fathers brought forth, on this continent, a new nation, conceived in liberty, and dedicated to the proposition that all men are created equal. Now we are engaged in a great civil war, testing whether that nation, or any nation so conceived, and so dedicated, can long endure. We are met on a great battle-field of that war. We have come to dedicate a portion of that field, as a final resting-place for those who here gave their lives, that that nation might live. It is altogether fitting and proper that we should do this. But, in a larger sense, we cannot dedicate, we cannot consecrate—we cannot hallow—this ground. The brave men, living and dead, who struggled here, have consecrated it far above our poor power to add or detract. The world will little note, nor long remember what we say here, but it can never forget what they did here. It is for us the living, rather, to be dedicated here to the unfinished work which they who fought here have thus far so nobly advanced. It is rather for us to be here dedicated to the great task remaining before us—that from these honored dead we take increased devotion to that cause for which they here gave the last full measure of devotion—that we here highly resolve that these dead shall not have died in vain—that this nation, under God, shall have a new birth of freedom, and that government of the people, by the people, for the people, shall not perish from the earth."
The lives laid down –
Revolutionary War – 4,435
War of 1812 – 15,000 est.
Civil War – 620,000
Mexican American War – 13,283
Spanish American War – 3,289
World War I – 323,018
World War II – 416,800
Korean War – 36,914
Vietnam Conflict – 58,220
Gulf war – 294
Iraqi freedom – 4,501
Afghanistan (OEF) – 2,381
Sources:
http://www.history.com/topics/holidays/memorial-day-history
www.campaign1776.org/revolutionary-war/facts-of-the-american.html
www.civilwar.org/education/history/faq/
www.spanamwar.com/casualties.htm
https://www.pbs.org/greatwar/
http://www.nationalww2museum.org/
http://www.cbsnews.com/news/how-many-americans-died-in-korea/
http://www.archives.gov/research/military/vietnam-war/casualty-statistics.html
http://icasualties.org/
***The above list does not represent all of the conflicts where American lives were lost.
OEF = Operation Enduring Freedom.