Goal Setting – Why?  Why does this matter to people? Because through goal setting, people can make their dreams come true.
When I was in Junior High School, we had an executive from John Deere Harvester Works named Robert Anderson come into our class & talk to us about career choices & opportunities. One of the ideas Mr. Anderson tried to convey to us was to look at what we wanted in life and then try to determine what needed to occur in order for that desire to become a reality. The hypothetical example he used was that as we were going home from school, we might pass a nice, large, white house on a quiet road. If we liked the house, we should ask ourselves "What needs to occur in order for me to be able to one day buy a house like that?" In his way, he was trying to teach us about goal setting.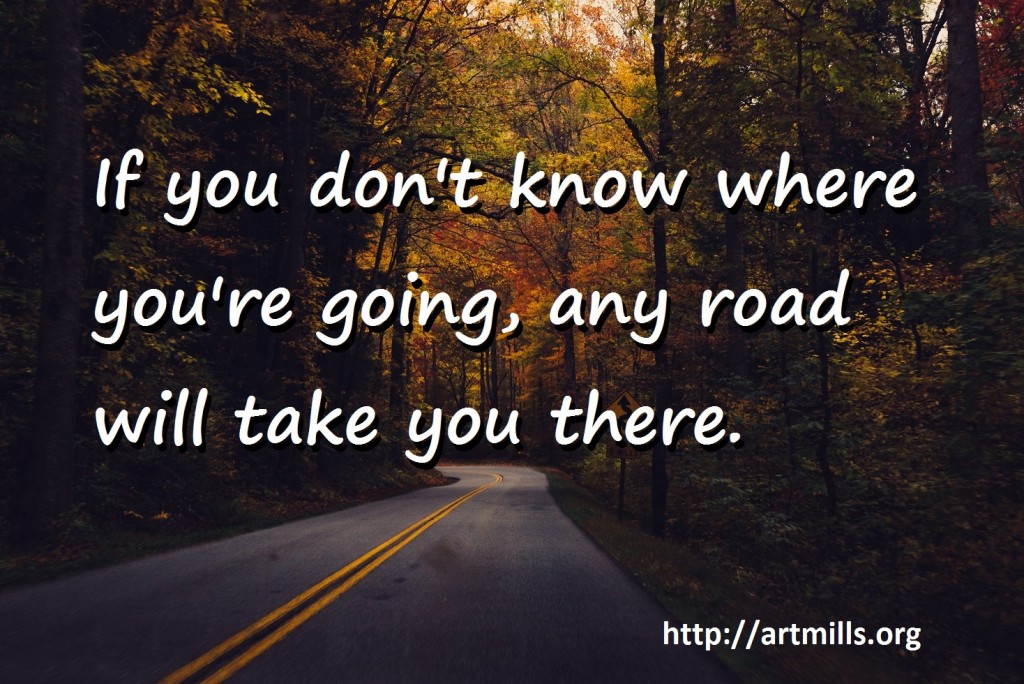 I think it's worth pointing out that there is the potential for two lines of thought when we talk about this. When Mr. Anderson spoke to us about what needed to occur, some heard what I need to do, while others heard what needs to happen. The difference between these two statements is huge. While one sees personal responsibility to carry out the vision, the other puts everything over in the arena of "if things work out" or "If those are the cards I'm dealt". I say this because when I was in this class, I was part of the second line of thought. I didn't see that I had any power at all to change whether or not the right opportunities came my way. In my mind, the power was always in the hands of someone else. I had to basically live within my reach and accept what ever drifted into my life. The big white house would be mine if life's currents decided to cause it to drift into my life all by itself.
Why should goal setting matter to you?
If you're like I was, then you are exactly the person I am writing to help. When I was a young man, I didn't know enough about this. As I look back from where I am now, I wish I has someone to dive deep into this kind of stuff & help me understand it better and to help me see my own potential.
"If you don't know where you're going, any road will take you there." is a quote that actually is a paraphrase of dialog between Alice & the Cheshire Cat in the original Alice in Wonderland by Lewis Carroll. While it does not appear in the original work, it's actually a pretty solid statement. If you don't know where you're going, any road will take you there.
Goal setting is really about making big decisions that will guide most of your small decisions. In his book Born To Win, Zig Ziglar says that every one of us has unique gifts that give us the power and the opportunity to accomplish great things. When people ask "Well, then why doesn't everyone achieve greatness?" Zig's reply is simple. Not everyone wants to be great. And many that want to be great are not willing to do the work, planning & preparing that it will take to make it possible.
So, what is the difference maker?
Desire!
There are several words in the original text of the Bible that translate into the word desire. In 1st Timothy we see Paul instructing Timothy concerning people in the church who desire the office of a Bishop. 1 Timothy 3:1 This is a true saying, If a man desire the office of a bishop, he desireth a good work. The word desire here is the Greek word Oregomai. It means to stretch or to reach out after and long for. Another word translated desire in the Bible is found in the letter Peter wrote instructing the church. 1 Peter 2:2 As newborn babes, desire the sincere milk of the word, that ye may grow thereby: The word desire here is the Greek word Epipotheo. It means to intensely crave possession. To long after.
Not everyone wants to be great. And many that want to be great are not willing to do the work, planning & preparing that it will take to make it possible.  -Zig Ziglar
So you can see how desire comes into play when we are setting & reaching goals. The truth is that when you desire something, you automatically begin to move toward it. When my desire for something is strong, I begin thinking on it almost continually. I day dream about it. I begin envisioning the possibilities. This very thing happened for me with this blog. As the idea began to form in me to create this, I began to day dream about what it would do in the lives of the readers. I began to picture specific young men that I wanted to read it, and I began to picture what I wanted it all to look like. I'm still doing this. When I write, I'm often imagining myself when I was twenty and the struggles I was facing. This helps keep me connected with my Why. When I stay connected to that, my desire gets engaged and I get motivated.
The setting and pursuit of an important goal brings us a sense of purpose. The accomplishing of that important goal brings a sense of fulfillment. I like to think of goals as the blocks I use to build my life.
I want to encourage you to take some time and think about what is important to you. What could you do different in 2016 to bring more purpose and fulfillment into your life? What are some things that you really want to do but can't seem to find the time to go after?
Next week I want to talk specifically about how. How to set goals so that you can reach them. Maybe there's an important goal you failed at and so you've given up. It's not too late. I would ask you to take some time this week and write down some short and long term goals.
I would love to hear from you. Leave a comment and tell us one goal you have for yourself in 2016.