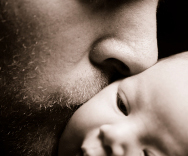 I have always tried to tow the line when it came to my kids.  If my kids were not allowed somewhere, I didn't go either.  It was always important to me to not be false or hypocritical to them.  I wasn't perfect at this but I really tried.  My thinking was that if they couldn't do it, then I couldn't either.  As it turned out, this was much easier for me than it was for them.  In a recent conversation that I had with my daughters, they confessed that in school, they often felt like the "weirdoes" because they were not allowed to do and see what many of their friends were allowed to do and see.  While some may see me as too strict, I see me as a parent.  When my children were born, I made a commitment in my heart to be the best dad that I could be.  I decided that it was one of my primary purposes to get them to self sufficient adulthood in the best shape that I could.  For me that meant that I needed to be present in their lives.  I needed to know what they were facing and struggling with.  I needed to hear what they were hearing and see what they were seeing and help them get perspective.
Some parents may argue that I should have let them find their own way and let them decipher the world for themselves.  For a parent to just allow their child to "find their own way" indicates that the parent hasn't found any truth for themselves that they thought was worthy to be passed on or to be taught to their children.  I have found profound truth in my own life and journey that has made me a new man and shaped my life for the best.  I think that is very worthy to pass on to my children.  I'm not interested in leaving them twisting in the wind, grasping for direction with out my help or guidance.
"Children learn more from what you are than what you teach."  ― W.E.B. Du Bois
When God chose Abraham, He (God) said "For I know him, that he will command his children and his household after him, and they shall keep the way of the Lord, to do justice and judgment; that the Lord may bring upon Abraham that which He hath spoken of him" Gen 18:19 (KJV).  God chose Abraham specifically because of this.  He knew Abraham would pass it on.  God is looking for parents to pass on the truths that they know to their children. God loves your kids as much as He loves you.  He doesn't want them hurt & struggling either.  You are in their life to instruct, correct, guide and help them.  Don't be slack about it.  They need you.
"One of the most important things we adults can do for young children is to model the kind of person we would like them to be."

  – Carol B. Hillman
Deuteronomy 6:6 & 7 (BBE) "Keep these words, which I say to you this day, deep in your hearts; Teach them to your children with all care, talking of them when you are at rest in your house or walking by the way, when you go to sleep and when you get up".
It's interesting to me that the Hebrew word for Teach used here means to sharpen, or to whet.  That implies repetitiveness.  When you sharpen a blade, you grind it against a whet stone over and over until you get the keenest edge possible on your blade.  When you're teaching your children, it involves correction and instruction, over and over, hearing and hearing. This is how confidence comes (see Rom 10:17).
What is the promise for children who hear and follow the Godly instruction of their parents?  Ephesians 6:1-3 tells us. "Children, obey your parents in the Lord: for this is right.  Honor your father and mother (which is the first commandment with promise;) That it may be well with you , and that you may life long on the earth".
Who doesn't want that for their children?
What's the take-away here?  Parents, don't be afraid to be parents.  Take time to pray for your kids and/or grandkids. Ask God to give you the wisdom and influence to have the maximum impact on their lives for good.  He loves them and has put you in their lives to help them.  That is His will.  He loves you too and He wants to help you be all you can be to your children.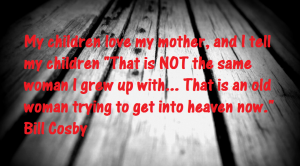 I also can't overstate the importance of being led by the Lord when it comes to being a good parent.  There have been times where I wanted to be corrective to my daughters but sensed a little "check" down in my heart that now was not the time to be corrective.  There have been times when I sensed that I needed to be tougher then I would normally be.  The Lord knows the situation and will steer us.  Dads in particular run the risk of being too heavy handed and can leave their children feeling like they can't do anything right.  The Lord will help you to know what to do and how to read your situation.
I am not your friend. I am your parent.  I will stalk you, flip out on you. Lecture, drive you insane, be your worst nightmare and hunt you down when needed. Because I Love You. – Seen on a wall hanging.
What has helped you to be a better parent?  What tips can you share that would help other readers in our community?  Please leave your comments and advice.  If this has helped you and you think it can help others, please help spread the word about artmills.org and also share this post.  Thank you all.  I appreciate you!