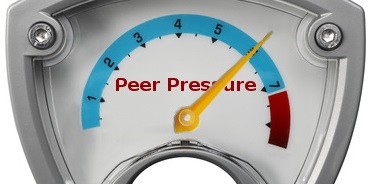 Here are some phrases I keep hearing from young men in our modern culture. "Gonna hit that!", "Gonna get wit that!", or "Gonna nail it!". While it's not always men saying this stuff, it's men that I'm thinking about when I'm writing this post. I'm a man and I believe I am qualified to speak to men in this area. The men who live like this have no honor. Notice how the phrases objectify the subject, usually a woman by reducing them to "That" or "It". The kind of man that would use those phrases above would be a man who's predominantly driven by conquest. He's a predator. His goal is the score. He's not looking beyond it. What he expects after his little victorious moment is for everything to go back to the way it was before the score. Go hang out with friends and maybe talk about the conquest. Get up. Live life. Nothing changed. Just a hit; just a score; just another notch. No real consequences, at least not for him. No honor. Of course the deception is that you can do the sin and not get the death. Death always rides with sin. As I was thinking on this I wrote down some characteristics of a guy like this. The dishonorable man.
His friends are probably not real friends. The friends that push you toward these things does not have your best interest at heart. Some may even try to shame you when your hunt is unsuccessful. These are not real friends. You can't trust these guys to have your back in a time of trouble.

His life will be full of shallow relationships. He will not have many, if any, deep meaningful relationships because his priority will be the physical. He comes around usually for only one reason. He has a wandering eye and is always pursuing the next conquest.

He's a man of no restraint. He may think he's a tough guy but he's not. Where it matters, he's absolutely weak. Every time a temptation or an urge comes up, he caves under it's weight. He doesn't exercise any discipline over himself. He's also prone to losing his temper. When it comes to his feelings and his urges, he just gives in.

He leaves blood & guts in his wake. Many, many, many times I've seen it where there are young mothers toughing it out on their own because some carnal boy in a man-suit doesn't have the real honest strength to stand up and be a man. I'm not just talking about standing by your mistake. I'm talking about not making mistakes. Using wisdom. Not taking chances when you are not ready for the result. Let me just say that I believe with all of my heart that God's grace is there for the single parent. I am convinced that the Holy Spirit is the difference maker and where He's involved, a single parent family can come through lacking nothing. It's just not the best way. It's gonna be a rougher road.
By contrast, the man of honor looks a little different.
He is humble. According to Proverbs 22:4, Honor comes by humility and the fear of the Lord (KJV). An honorable man has an honest estimation of himself. He doesn't think more highly of himself than he aught to think.

He follows after what is right. Provers 21:21 (KJV) He that follows righteousness and mercy finds life, righteousness and honor. A man of honor will do what's right even if it costs him. A man of honor understands that there are things more important than money or being liked and accepted and he values justice and mercy.

He avoids strife. Proverbs 20:3 (BBE) It is an honor for a man to keep from fighting, but the foolish are ever at war. A man of honor isn't out there trying to prove how tough he is.

He listens to instruction. Prov 13:18 (BBE) Need and shame will be the fate of him who is uncontrolled by training; but he who takes note of teaching will be honored. I can't stress this enough. The problem with so many is that they can't receive correction. It's sad because many times you have to let them learn through "Hard Knocks University". They have to take the beating for themselves. It's foolish to think that we don't need correction. If that were the case, we would be perfect. That is NOT the case though. When we know we're not perfect, why do we resist instruction and correction?

He pursues wisdom. Prov 4:7-8 says to get wisdom with everything you have. Lift wisdom up and she will promote you. Embrace her and she will bring you honor. Wisdom, the skillful application of knowledge, should be a life-long pursuit. Wisdom sees down the road and makes adjustments for what is coming. A man of honor looks down the road to see the eventual end of his actions. This keeps him from getting girls pregnant. This keeps him out of jail. This keeps him from losing his job. A man of honor pursues wisdom. Wisdom for every area of his life. God has made wisdom available for you to know the next step. Wisdom to resist in areas where you keep falling. Wisdom to rebuild broken relationships. The wisdom is there and the man of honor will seek it out.
Are you in an affair with your problem…or are you in a covenant with your solution? Stir up the gift!  -(AJRK) From Coy Wade.
These are things that are close to my heart. I strive to be a man of honor everyday. It really is a better life. If you have been struggling with the stuff I've talked about here, there's still hope. You can get there. The first thing is that you need a "Want to". Nothing in your life changes until you are properly motivated to want it. Nothing. How do you make the change? Here are a few short steps to get you moving in the right direction.
Ask for forgiveness. (Click here for more information).  Ask God and if there's another person, ask them too.

Humble yourself to ask for help. The bible says that God resists the proud but gives grace to the humble. (James 4:6 & 1 Pet 5:5). Grace is the unearned power of God. He wants to give it to you. By humility you recognize that you need His help and then just ask. Jesus said "Ask, and you shall receive, that your joy may be full".

Trust Him. Believe that He's on the case. Mark 11: 24.

Let peace rule in your heart and be thankful that He's helping you. Col 3:15.
If this post has helped you or you believe it could help someone else, please consider sharing. If you are reading this anywhere besides artmills.org, please head over there and leave a comment. I welcome your participation and discussion. While you're there, check the place out. If you would like to receive the posts directly to your email, you can sign up for it there too. Have a blessed week.