A few years back, I saw a made for television movie about settlers moving west. I don't remember what it was called but I remember one scene in particular when a family came to the Mississippi river. It was during winter and the river was frozen over. They were going to have to cross the river in their wagon. Though the river was frozen over, there was always the possibility that the wagon would break through the ice . They needed to make sure they were as light as possible. As they stopped on the bank of the river, all along the bank were fine pieces of furniture, cabinetry and even an organ. Treasures left behind by travelers who had passed before. Family heirlooms that were so precious that they couldn't be left behind and it no doubt broke the hearts of the people who had to just leave them there sitting in the open air on the bank of the river. Why were they there? Because they suddenly became a direct threat to the success of the journey. Hanging on to them would have meant possibly breaking through the ice, losing the wagon, the rest of the belongings and maybe even the lives of the family. These things that were once considered so valuable were now considered heavy weight and were hindering the progress. Keeping these things would have caused the travelers to fall short of the goal. They would not have made it if they didn't dump the unnecessary weight.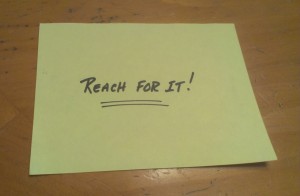 I remember a time several years ago when I had an experience that I will never forget. It was early one morning and I was right at that point where my eyes were not open yet but I was sort of awake. You know, that point where you are sort of teetering on the edge of sleep, when all of the sudden this thought floated up into my mind like a voice from the inside of me. "The time is coming when this will no longer be tolerated". First, I knew immediately what it was pertaining to, and second, I was instantly fully awake. So many times this is how God leads his people. Not by an audible voice but by a "knowing" or a conviction.

I understood what it was about. There were some things in my life that the Lord had been dealing with me about and I was over-riding my conscience about them. I was ignoring His correction. He was warning me that if I wanted to reach my full potential, I was going to have to lay them down and not pick them up again.

I began to see that many of the ministers that I have heard of that have fallen, failed and brought reproach against themselves and the ministry were in this same situation but would not listen. They would not receive correction and wound up ship wrecked with damaged credibility and diminishing influence. In some cased dying sooner than they should have. Some fell over money. Some over sexual immorality. Some over mishandling the ministry that the Lord put them over and in each case they would not judge themselves, they would not submit to correction. In some cases we have record of other ministers going to them and warning them but they would not listen. I realized that if I continued to resist instruction and over-ride correction, I was very likely to stall. 
I began to understand the importance of correction. First we need to understand that God loves us, and who He loves He corrects. Heb 12:5 (God's Word Translation) says "You have forgotten the encouraging words that God speaks to you as his children: "My child, pay attention when the Lord disciplines you. Don't give up when he corrects you. 6 The Lord disciplines everyone he loves. He severely disciplines everyone he accepts as his child." 7 Endure your discipline. God corrects you as a father corrects his children. All children are disciplined by their fathers. 8 If you aren't disciplined like the other children, you aren't part of the family." 
How should we think about correction? Correction is not a bad thing. God corrects us because he loves us. Realize that when He begins to convict your heart about anything at all, it's the creator of the Universe taking a specific interest in your life and giving you instruction to help you grow up to a greater level of maturity. Correction from God should not to be feared or despised. The tiny details of your life matter to Him.
We should pay attention to it. The King James says it this way "Despise not the chastening of the Lord". We find in the Bible that to despise means to value lightly, to lightly esteem (1 Sam 2:30). When we are corrected, we need to value it & take it seriously. This is honor. The reason we are warned to pay attention is because the temptation will arise to ignore it.
Don't give up. The whole purpose for the correction is to help you move forward. Consider what would have happened to the settlers moving west if they had gotten all the way to the Mississippi and then just refused to part with the heavy stuff. Imagine thirty years later, there they are, stuck. The dream of a new life in the west fading into distant memory. In some cases, not accomplishing the life that they were born to live, all because they wouldn't let go of the things that were weighing them down and holding them back.
Understand why you're getting it. You're getting it because God really does love you. He wants the best for you and wants you to stay on track and stay out of the ditch.
Understand how God thinks of you. If you've received Jesus as your Lord, He thinks of you as His child. As His child, He has the right as your father to instruct, guide and correct you. There's no one wiser that He is. When you look to His word and it hits you right where you live, don't ignore it. It really is for your good.
Correction may come to you through an elder. You must have the humility to receive it. They may not say it in soft tones but if you're going to grow, you can't let hurt feelings keep you from seeing the truth of it. When you can receive it and use it and not let your feelings or pride get in the way, that shows real maturity.
God is faithful. I trust Him to help me. I've prayed and asked the Lord to show me where I'm being held back. I want to know. I don't want to be deceived into thinking I'm okay in an area where I'm not. I know that in my own past I have been entirely too light on myself when it comes to what I allow. The truth is, corrections are always necessary in order to get where you want to go. Life will try to blow you off course all the time. The only way to reach any goal is to correct. If you don't correct, you will end up somewhere but it will not be anywhere you want to be.
You be faithful too. I remember a long time ago when I quit smoking. I blew it after several days of success and I was so disappointed in myself. I remember praying and saying "Lord, I'm sorry. I don't want to do this anymore." Just like the morning I woke up to that thought, He caused me to realize this "The quicker you become faithful, the quicker the fruit of faithfulness will show up in your life". The faster you respond and the more serious you take the instruction, the faster the results show up.
Correction usually means course change and that sometimes involves repentance. Hebrews 12:1 says "Since we are surrounded by so many examples of faith, we must get rid of everything that slows us down, especially sin that distracts us. We must run the race that lies ahead of us and never give up."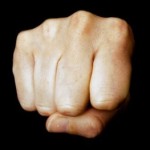 What should we do? I've decided to get "Bare Knuckles" with myself concerning these things. I want to get brutally honest with myself. I don't want anything to hold me back from hitting the mark and reaching my full potential. So here's my challenge to you. Will you go with me? Will you take the Bare Knuckles challenge? Let's take this walk of faith together.
What steps can you and I take this week? Let's mix it up! I want to hear from you. Maybe we can give a few minutes each evening to reflect on the day and where we may have missed it, then make a plan for the next day so that we don't.  Please leave your comments below and that way we can help each other.