The day Elvis died is an important day for me. It marks a change in my thinking about the meaning of Someday.
When I was in about second grade, I remember asking my dad if we would ever see Elvis live in concert. At the time my dad was an Elvis fan and we often had Elvis playing in our house. My dad answered "Someday". I didn't give it another thought. Several years later Elvis died. We never found it. Our someday never happened.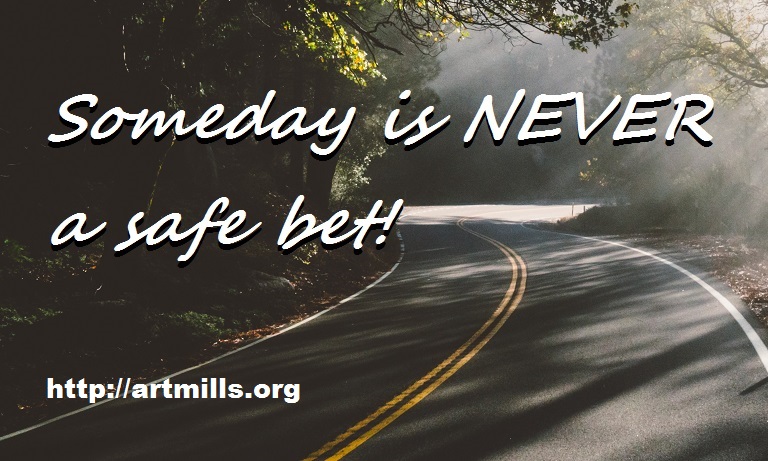 Not seeing Elvis live and in concert didn't destroy my childhood, but for me it does represent a missed opportunity. A chance to share what could have been a very special time with my dad was lost.
Someday, we will do that important thing. Someday, we will have more time. Someday, we will fix the broken relationships in our lives. Someday!
Author George Saunders wrote: "The scariest thought in the world is that someday I'll wake up and realize I've been sleepwalking through my life: under-appreciating the people I love, making the same hurtful mistakes over and over, a slave to neuroses, fear and the habitual."
We allow all the trivial, non-essential, unimportant things in our lives to steal our time and attention away from the weightier things that would help us build a better life.
Why can't Someday be today? Why wait? If we can't act now, can we at least start today to make a plan or set a goal? Zig Ziglar said "A goal well set is half reached". There are too many things that we want to happen, but we're not doing anything to make them happen and they will not happen by themselves. How our future turns out depends on what we do.
Let's make someday more than a wish. Let's decide to take action today & make our desires a reality.
Are you putting off something you should be acting on? I encourage you – don't wait. Make a move today.