Hello to you!  I want to take a minute and just have a conversation with you, my beloved reader.  I really value our connection and I don't take it lightly.  Because of that, I think I need to give you an update as to why my posting schedule has been a little erratic.  It's basically comes down to me needing to take some time, and focus on getting some stuff done.  
Before Christmas I started on an ambitious woodworking project that I'm right in the middle of now.  
Here's what I'm modeling after,
and here's where my version is today.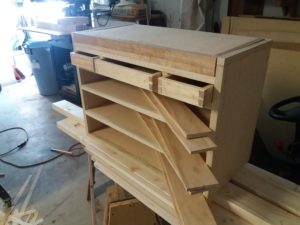 Instead of tools, my version is going to be a cosmetics and make-up brush chest with a mirror in the lid.  🙂
We've also decided to replace the windows and siding on our house.  The windows were done last week, and we're right in the middle of the siding part.  We needed this badly.  This house had been foreclosed on, and we purchased it from a bank.  When we took possession of it, there were no doors on, or in the house.  No light fixtures, vanity, water heater or air conditioning.  They had all been stripped by the previous owner.  All of the windows had been caulked closed and only one of them had a screen.    
After spending several intensive months on it, we've got a pretty good house. Except for the siding and windows.  But that's all about to be fixed!  Yaay!
A couple of weeks ago, my uncle R.G. and his lovely wife, Marie came through and visited with us for a short weekend.  I was really blessed by it.  We broke bread together and stayed up kind of late just remembering funny stuff from the past.  We can't get together for too long before we start encouraging one another in the Lord. I'm so glad and blessed that we had that time together.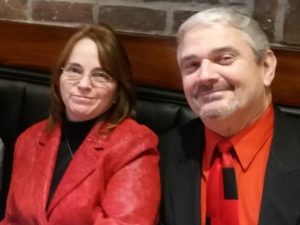 My uncle and I are pretty tight.  He's been an active part of my life since I before I started the third grade.  Before that, we lived in different states.
When my parents divorced, I went through some pretty tough times personally.  My uncle took an interest in me and my life.  He loved me.  I say that as a verb.  He taught me, he helped me, he joked with me, he took me fishing, and most of all, he showed me the Love of God.  
He was the first Christian that didn't make a big deal about my sin and mess ups.  He didn't judge me. He just stayed steady, and would counsel me when the opportunity arose.  He stepped in when I didn't have anyone to teach me how to be a man, and spoke to me about things like Honor, Integrity, Humility & Character.  Things that mattered.  
He actually set a good example to me of what these things look like.  The Lord used his example to birth in me a desire to help others this way. Especially young men.  
Anyway, I'll do better at being more consistent with my posts, but I would like to ask you a favor.  Would you please send me a comment or email and give me three things that you would like me to touch on with this blog.  It would be a tremendous help to me.  I always make the topics a matter of prayer and I've been led by the Holy Spirit on much of what I've written about in the last three years, but I would like to sharpen my focus on the things that you really need to hear about.  
I sure would appreciate it.  I would like to borrow a comment from my friend, Pastor Bob Keich in closing and just say this – If no one has told you they love you today, let me be the first.  I love you guys.
Art